Did you know that each ear is unique? Yes, your two ears are different! Yet when it comes to hearing protection, standard earplugs are often the first choice of people. But what about custom hearing protection? Find out how to define a custom hearing product and the use cases.
Protect hearing: from technology to health
Why wear hearing protectors?
Personal protective equipment (PPE) for the ears are used to protect against noise or water. They are used in a professional (noisy environment) or private (sleeping, swimming) setting.
We are all exposed to more and more noises during our life, at work, in transport, in cafes. These noises can have harmful consequences on our health. The individual protection against noise (PICB in french) reduces the risks of disability due to exposure to sounds of more than 80 decibels. Thus, they prevent the onset of hearing disorders.
Indeed, it has been shown that prolonged exposure to sounds above 80 bB (A) is dangerous. It can lead to hearing fatigue, tinnitus, hyperacusis (intolerance to sound), temporary hearing loss and in some cases irreversible deafness. Certain cells inside your ear, the hair cells, are damaged by sounds that are too loud. These cells do not regenerate, which means that you lose the elements that capture the sound vibrations.
This is why, according to the French Labour Code, hearing protection is mandatory when an employee is exposed to a sound intensity of more than 80 decibels.
The challenges of anti-noise products
In private life or in the workplace, wearing a hearing aid, noise protection or simply an earphone is common. In hearing, there are therefore two main issues:
1/ Efficiency related to the use of the device. Indeed, if you wear a hearing protection, it must be able to limit the sound intensity in order to protect your hearing.
2/ Well-being. Whatever the product (hearing protection or medical device) it is often worn for long hours or even throughout the day. It is therefore necessary that it is comfortable and does not cause you any pain.
The different types of professional hearing protection on the market
To protect workers in noisy environments, the employer can offer different types of hearing protection:
1/ "Earplugs" type made of foam or silicone.
There are single-use or reusable models after cleaning. They are available in 3 different sizes (usually S, M, L).
2/ Earmuffs.
They are mainly used in very noisy environments such as construction sites for example. The helmets do not haveattenuation filters, which means that they reduce all frequencies indiscriminately, making communication between colleagues difficult.
3/ Custom earplugs.
Molded hearing protection is perfectly fitted to the individual's ear and provides excellent protection while being comfortable for the user. They are usually obtained with an impression paste made by a professional audiologistor trained technician.
4/ Patented semi-custom earplugs developed by MyFit Solutions
Today, there is an alternative solution between the standard product and the fully customized earplugs. MyFit Solutions has developed patented semi-custom earplugs. This is the solution chosen by our partner Alvis Audio.
Read on to find out how we and Alvis Audio have revolutionized custom hearing protection.
How to automate the manufacturing of custom earplugs? Use Case
Context
Alvis Audio is an independent family business that offers a complete range of hearing protection to professionals and individuals.
Their project was to propose an anti-noise plug answering these 3 important criteria:
Optimal hearing protection: reduce the impact of low, medium and high pitched sounds;
Comfort and efficiency: to offer a customized plug, adapting to the client's ear canal;
Unique and revolutionary impression experience: manufacture custom earplugs from a non-contact impression. Indeed, traditional impression taking, performed by audioprosthesists, is a bottleneck in the process of manufacturing custom hearing protection since it requires a trained professional to be on hand.
The best solution: a technology from MyFit Solutions
Thanks to MyFit Solutions and its products, Alvis Audio was able to launch its SM3D earplugs, which are guaranteed to be anti-noise and custom-made! It is a unique product: halfway between the standard size and the fully customized earplugs. And above all, the measurement is done without impression paste, without contact, but only with a 3D scan of the ear from a mobile application
This is THE "new generation" solution to define custom earplugs on a large scale anywhere and anytime, while remaining competitive!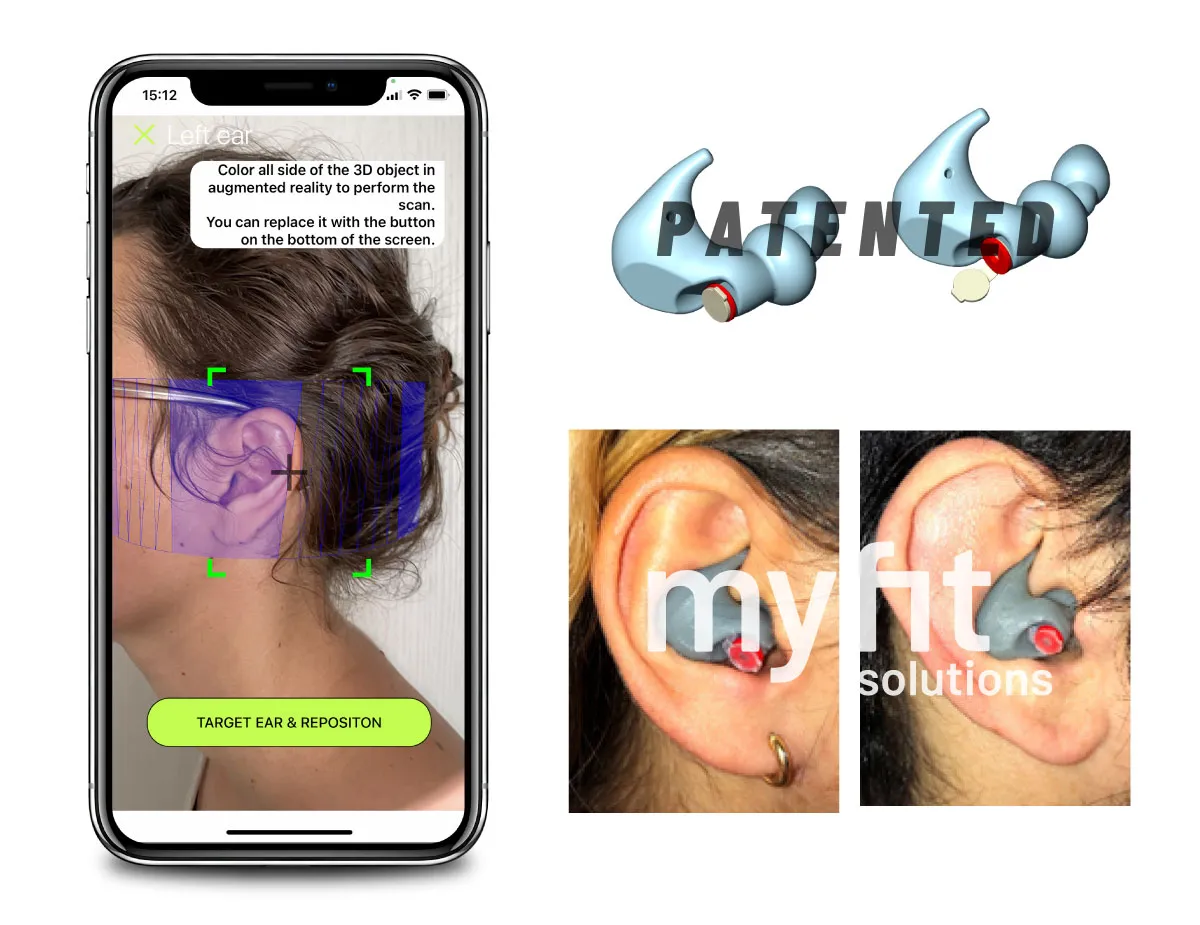 How to make custom earplugs without taking a physical impression?
Like Alvis Audio, skip the impression paste and embrace 3D scanning coupled with patented automatic modeling. You gain a fully automated process that ensures the production of custom hearing protectors on a large scale.
Our business processes and information flows available on the platform ensure the continuity of the production chain. MyFit Solutions technology allows you to control each step:
1/ The ear scan: it is a simple action to implement from a mobile application on a smartphone;
2/ Analysis with artificial intelligence: the algorithms automatically recognize the different characteristic points of the ear;
3/ Data analysis to create the model: the modeling is automatic in a CAD tool (Computer Aided Design).
4/ The manufacturing of the customized product: each unique part is made in 3D printing.
What are the advantages for the final consumer?
No need to wait weeks for a custom product! Customers have access to the latest technology from the comfort of their own homes. From their smartphone, it is possible to receive a custom hearing protection adapted to the morphology of each ear within a few days.
Using a solution such as the MyFit Solutions mobile application, the impression can be taken anywhere and by anyone, no need to have a team gathered at a specific location.
Finally, there is an ecological and economic dimension. Indeed, if remote impression taking dispenses patients from traveling, it also allows for its production on demand in 3D printing. No more useless product manufacturing!
MyFit Solutions: the ear analysis specialist
A real expertise in measuring and modeling the ear
If you have ever worn earphones at least once, you have encountered this problem: they fall out or worse, they hurt! Xavier Deshayes, the founder of MyFit Solutions has put an end to this inconvenience. Passionate about running, he found a solution to stop the earphones from falling out (a problem that also affects 60% of runners).
MyFit Solutions has developed the revolutionary solution that meets these 3 main criteria:
comfort ( custom made),
sound improvement,
and time saving (in the creation).
With thousands of scans obtained from more than 20 different countries, our technology allows us to obtain a 3D scan rate of more than 99.5% right the first time. MyFit Solutions has developed a real expertise in the measurement and modeling of the ear.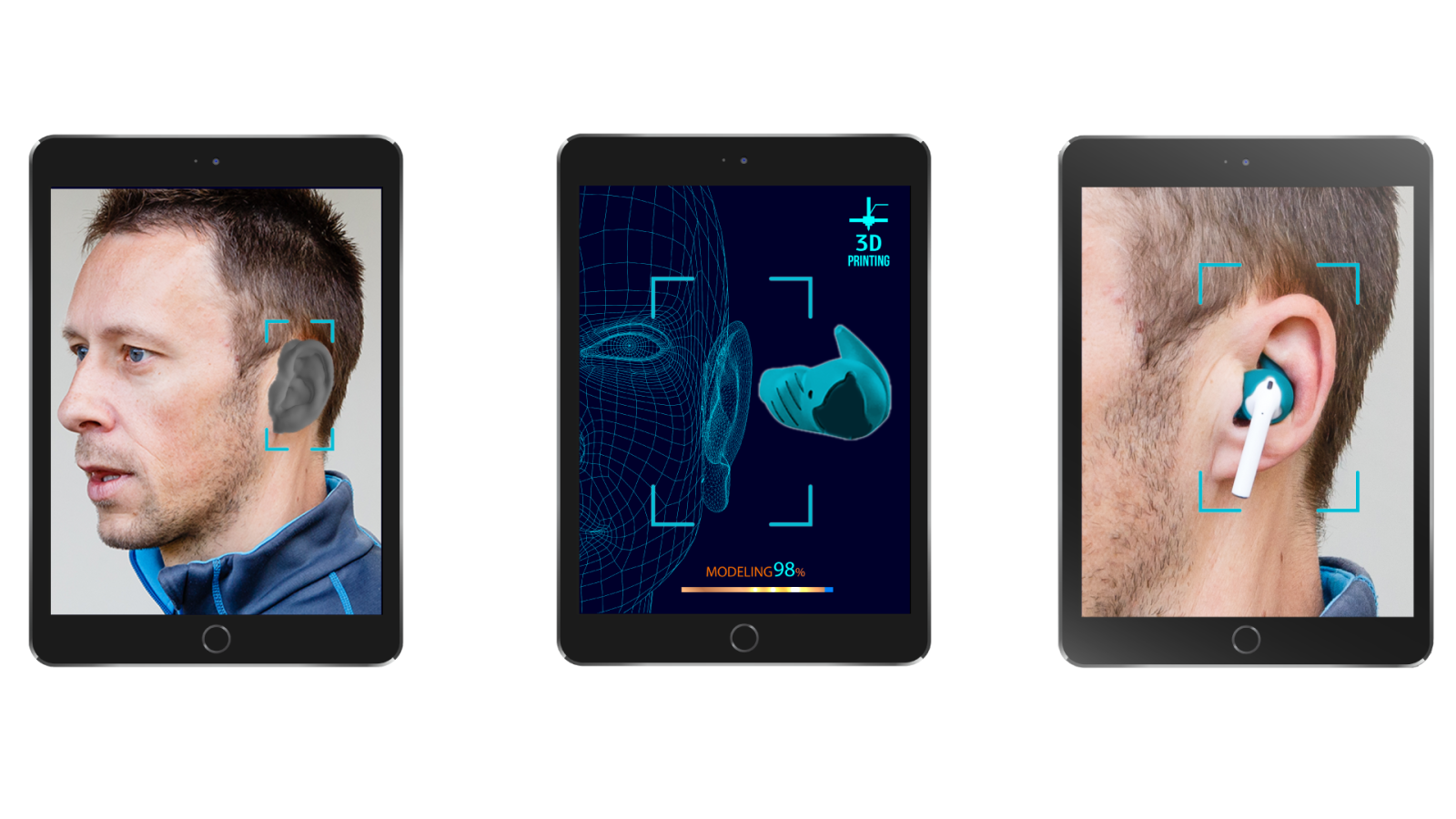 How to measure with 3D acquisition?
The use of a 3D scan is used to obtain precise measurements of a body or part in order to model it perfectly. Without physical contact with the user, the body scan captures the shape and dimensions of a member with great fidelity.
The ear is a complex organ.Indeed, the 3D scan allows to capture in a few minutes the contour of the ear, the curve of the auricle to the lobe, the height of the helix, the diameter of the entrance of the auditory canal… The MyFit Solutions scan collects up to 75 points in order to create and define the most adapted product to the user.
There are many advantages to 3D scanning:
non-intrusive: no physical contact with the person ;
reliable: the 3D models generated with MyFit Solutions have an average accuracy of one millimeter;
reproducible: our technology is validated in production with a rate of good 3D scanning on the first try of more than 99.5%, regardless of the person taking the measurements;
fast: it takes only a few minutes to collect all the measurement points.
How to define personalized or customized hearing protection?
In the case of modeling
Do your customers want custom-made products? Our expertise allows you to quickly set up a controlled and automated process to offer custom-made products for your customers' ears.
Our process is ready to use: from measurement to modeling thanks to our artificial intelligence algorithms. The automation of the modeling allows you to provide your customers with products quickly and at a competitive price.
In the case of a measurement
Automatic modeling is not only used to produce custom hearing protection. It also facilitates the recommendation of a reference and a size of your product catalog.
Indeed, we have created a neural network to generate automatic annotations during a scan in order to obtain a basis for product recommendation. The data analyzed and extracted are the shape of the ear, its dimensions and its characteristics, which allows, with artificial intelligence, to provide the right recommendation.
All this has been verified, made reliable and validated with the acquisition of a large number of measurements on a panel of different people. Our technology is ready to use, from capture to recommendation, thanks to a complete digital solution (patented process)!
Thanks to the knowledge of the ear acquired, MyFit Solutions is able to accompany brands like Auzen in the personalization of their offer.
Our databases and our knowledge of the ear are now major assets that make MyFit Solutions a renowned technological partner.
Would you like to find out more about our 3D scanning solutions and applications?