Nowadays, product customization has become an unavoidable trend. Customers want products that are tailored to their needs and body shape. This is where 3D face scan comes in. Thanks to technological advances, it is now possible to get an accurate 3D model of a customer's face in just a few moments, simply by using a smartphone. Thus, brands, manufacturers and health professionals can create custom-made products with impressive precision and speed. But how does this technology work, and what are the benefits for brands, manufacturers and healthcare professionals?
In this article, we'll explain everything you need to know about 3D face scanning from your smartphone and all different ways it can be used for product customization.
Advantages of 3D scanning for product customization
What is 3D scanning?
3D scanning, also known as 3D digitizing, is a technology that accurately captures shape and appearance of human body parts or objects and converts them into a three-dimensional digital twin.
This technology is traditionally performed with 3D sensors such as laser scanners or structured light scanners. And recently with smartphones thanks to the advent of techniques like LiDAR, photogrammetry and their derivatives.
3D scanning is used in many fields: healthcare, industry, fashion, luxury goods, art and culture, among others. Using a smartphone equipped with 3D scanning software, brands, manufacturers and health professionals can obtain high-quality scans of human body in real time, offering new perspectives to create customized products.
Which benefits of 3D scanning with a smartphone?
Now let's get down to business: how can you scan your face in 3D and take advantage of this technique to personalize your products?
3D scanning via smartphone has many advantages, especially when it comes to face scanning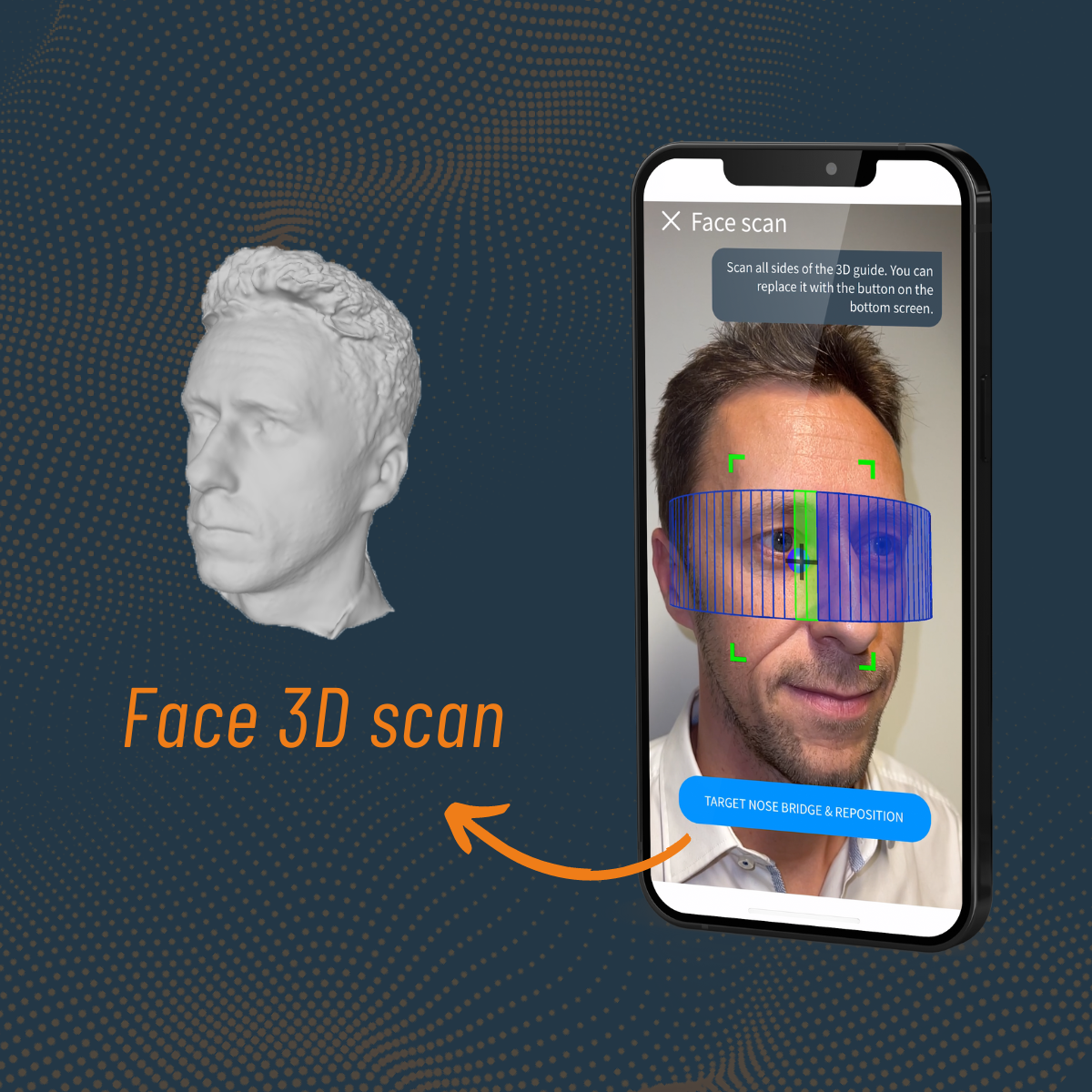 Speed: 3D acquisition is fast, a few seconds are enough to make a scan.
Reliability: 3D scanning allows you to get realistic models at scale, accurate to the millimeter, for product design or 3D printing purposes.
Cost reduction: 3D scanning via smartphone does not require expensive purchase of a dedicated 3D scanner.
Accessibility: Scanning is easy to perform and requires no specific training. Brands, manufacturers and healthcare professionals can easily integrate this innovative technology into their practices. . The smartphone becomes a portable scanner, enabling to scan anywhere, at anytime
Now let's get practical: how to scan the face in 3D and take advantage of this technology to personalize your products?
How to scan the face in 3D?
Here is a 5-step guide to get a comprehensive 3D scan of the face with traditional scanners:
1/ Scanning using landmarks

It is crucial to define landmarks to achieve an accurate 3D face scan. A common method is the use of ears as landmarks and then move the scanner in a circle around the head. `Without a guide, the execution can become quite difficult.

2/ Capture all parts of the face

During scanning, it is important to ensure that all face parts are captured, including face outlines, cheekbones, nose, lips, eyes, eyebrows and ears. With traditional 3D scanning tools used today, training is required for an effective scan. An effective scan is a scan where every angle is captured for full 3D modeling.

3/ Keep an equal distance during the entire scan

Maintaining a constant distance between the scanner and the face throughout the scan is essential to avoid distortion and ensure uniform data acquisition. This is an action that must be performed by a trained person. A 3D scanner can be heavy and the risk of not getting a right 3D scan the first time is high.

4/ Clear the head

It is essential to clear the head of hair which can alter the scan quality To avoid any defect, it is recommended to pin hair back or cover it with a cap.

5/ Stay still

The person being scanned should remain as still as possible and with the same facial expression for an accurate result.
What if we tell you that today there is a simple and reliable solution to get a face 3D scan: scan from a smartphone with MyFit Solutions application!
3D scanning from smartphones by MyFit Solutions
How to perform a scan with a smartphone?
3D scanning via smartphone has become an essential tool for brands, manufacturers and healthcare professionals looking to customize their products to the morphology of their customers or patients, to improve their customer/patient experience, and reduce product returns during online or remote sales. Indeed, if 3D scanning is traditionally done using dedicated machines, which are costly and require training, the mobile is the tool that everyone can use!
Everyone uses a smartphone in 2023, so there is no need for training to get a 3D model of a body part, even the face. By downloading the right 3D scanning mobile application, scanning a face is now within everyone's reach, everywhere and at any time.
The process requires no special equipment. The scan is done without physical contact with the person. All you have to do is hold the phone at a distance to capture images using simple moves.
Finally, the captured 3D model, accurate and at scale, can be used to design customized products adapted to the morphology of customers or patients.
The guide for a successful face scan!
Thus, with MyFit Solutions application, 3D scanning of the face is simplified and error-free thanks to a guided scan.
Now that you've mastered key steps to a successful face scan, it's time to learn about different types of products you can create using these scans.
At MyFit Solutions we have designed a 100% guided face scanning experience for an easy and error-free process.
After installing our application on your smartphone, 3D scanning becomes a breeze! Indeed, you are completely guided to get a successful scan from the first time.
Here are 3 points of assistance provided by the app:
Positioning: The application indicates the right distance to keep from the scanned person.
Movement: On your smartphone screen, a guide is displayed in augmented reality. You just have to follow it and perform simple moves.
Capture of all areas of the face: The app shows you in real time areas that are already captured by coloring them, indicating what remains to be scanned.
Thus, with MyFit Solutions application, 3D scanning of the face is simplified and without risk of errors thanks to a guided scan.
Which parts of the face can be analyzed using a 3D scan with a smartphone?
Face 3D scan developed by MyFit Solutions makes it possible to analyze several parts of the face to create customized products.
The eyes : their shape and distance between them
The eyes are an important part of the face that can be analyzed with a 3D scan. Online opticians and eyewear marketplaces can offer virtual fittings, but 3D scanning technology takes it a step further. It is now possible to recommend the right product size based on criteria such as the distance between customer eyes or the nose size. This ensures a perfect fit of the frame, which improves comfort and quality of vision.
Examples of products that can benefit from this technology are eyeglasses and sunglasses. Similarly, ski masks and medical or safety breathing masks can be custom made using data collected from a 3D scan of the eyes and nose areas.
Whether online or in-store, it is essential for opticians to be able to take measurements on customers' faces. In order to quickly identify the right glasses in the store's inventory or to offer fully customized products.
The mouth/lips
3D face scanning opens up many possibilities in beauty, skincare and medical fields by allowing professionals to access an accurate 3D model of a client's mouth/lips. This allows for a better fit between a product and the complex shape of a person's mouth and lips.
For example, in healthcare, 3D face scanning is useful, especially for maxillofacial reconstruction. Regular scans allow professionals to track the progress of the reconstruction remotely, help assess progress and make informed decisions for future treatment.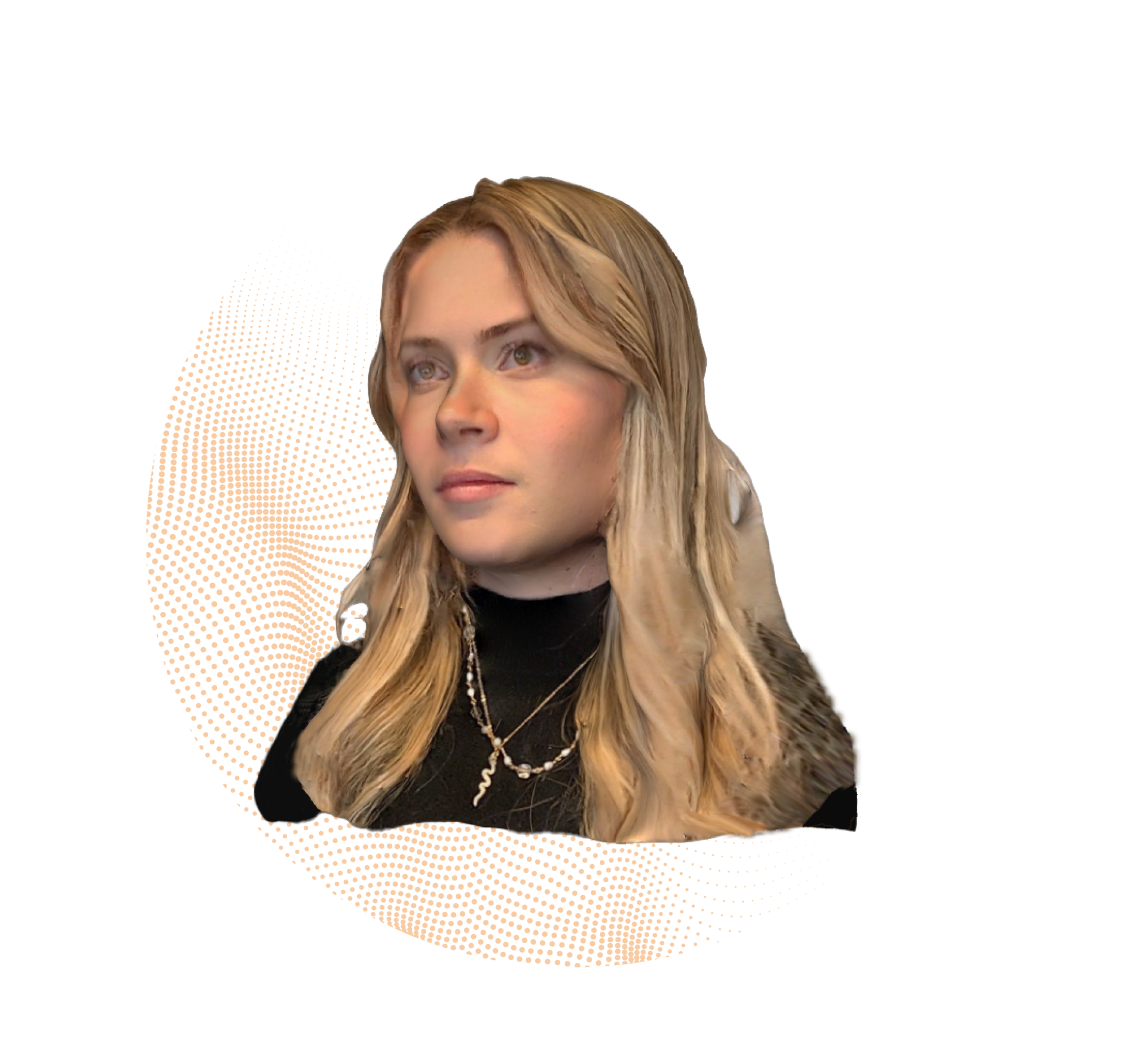 The whole head
By taking into consideration the shape of eyes, mouth, nose and head. In the field of sports or medicine, 3D scanning of the entire head enables, for instance, the creation of custom-made helmets, 100% shaped to the morphology of the head. Also, the head 3D scan can be used to take digital measurements and to recommend helmet sizes remotely.
What are the practical applications of 3D facial scanning?
Face 3D scan can be decisive for brands, manufacturers and healthcare professionals on two important levels: on the one hand, for the development of personalized or customized products, and on the other hand, for the recommendation of product size fitting their customers.
3D scanning technology allows to accurately model different parts of the face to create customized products. Indeed, obtaining a 3D model at scale allows manufacturing products fitting client/patient morphology.
The use of 3D scanning for the creation of custom-made masks
This technology can be used to make customized masks. Note that masks to help breathing are increasingly used. Whether it is for comfort (urban travel by bike or on foot for instance) or in a medical setting (breathing aid mask). Wearing a membrane that is as close as possible to the shape and morphology of the face provides increased comfort and improved treatment.
Masks for sleep apnea, which are experiencing a boom, must also be well adapted and comfortable to ensure that they remain in place throughout the night despite the wearer's movements. Offering a mask that is as close as possible to the wearer's face is therefore essential to provide well-being and personalized treatment.
3D digitization for the creation of custom-made glasses
3D digitization allows the creation of custom-made glasses by defining the shape of the glasses and the frame based on the client's morphology.
This solution guarantees a perfect fit and maximum comfort for eyeglass wearers. It also allows for a personalized shopping experience and the ability to meet the specific needs of each customer.
3D scanning for manufacture of customized products brings benefits for both professionals and patients/customers:
Manufacturing of products to the exact morphology of the client/patient;
Improved well-being and treatment for medical devices;
Simple digitization process accessible to all via smartphones;
Possibility of obtaining a 3D model of the client's face remotely for measurements extraction and shape studies..
Overall, 3D facial scanning is a valuable tool for professionals in various industries, enabling customization of products. With the most recent technology advances, 3D facial scanning is now within reach with easy-to-use tools such as smartphones.
At MyFit Solutions, we offer innovative scan-to-fit solutions enabling highly accurate 3D face scanning for the perfect fit. Interested in our solution? Want to know more? Contact us for more information.
Would you like to find out more about our 3D scanning solutions and applications?