Are you ready to transform the eyewear shopping experience? The face, a complex part of our body, requires accurate analysis to ensure optimal comfort when wearing eyewear, often throughout the day. In this article, find out how 3D facial scanning from smartphones is transforming the custom-made glasses industry. A professional technology that can be used anywhere, at anytime. Also learn how this innovation offers new possibilities for businesses, even remotely!
How to create glasses?
Requirements for a good measurement
Taking measurements is a crucial step in the making of eyeglass frames. Qualified opticians have the mission to ensure visual comfort and visual health of their customers by offering optical and solar glasses fitting their morphology and their needs.
Today, buying properly fitted glasses requires a comprehensive set of data:
Size and positioning of the eyes: measurements related to pupillary distance, nasal width or canthus level are essential to ensure optimal vision and wearing comfort.
Size and positioning of the eyes: measurements related to pupillary distance, nasal width or canthus level are essential to ensure optimal vision and wearing comfort.
Eyeglass lens width: width of eyeglass lens must be adapted to the size of the eyes and the wearer's field of vision.
Bridge width: a correctly sized bridge avoids excessive pressure on the wearer's nose.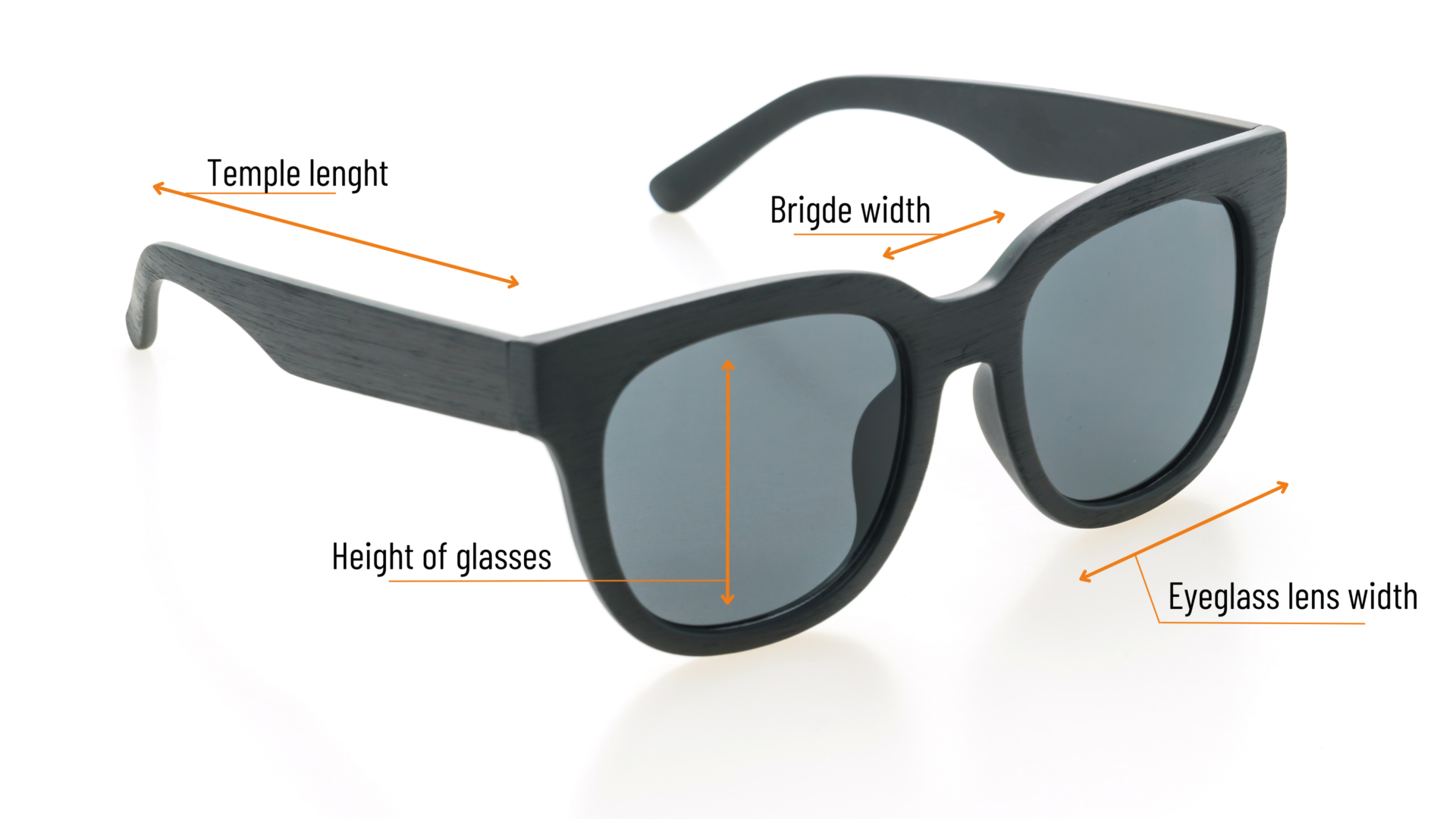 Temple length: length of temple must be defined as to ensure a stable hold behind the ears without causing discomfort.
Sphenoidal and temporal distance: these measurements are taken to ensure a balanced distribution of the frame's weight on the face and to avoid uncomfortable pressure points.
It is important to note that these measurements should be taken by an optical professional, such as an optician or spectacle maker, who has the necessary skills and expertise.
Optical market challenges: e-commerce and customization
The French optical market is experiencing significant growth, with total sales of €6.75 billion in 2021, up 13.5% from 2020. It is interesting to note that the market share of online optics (e-commerce) is growing and now exceeds 7%.
However, the development of e-commerce raises questions about how to ensure accurate and efficient measurement by the patient. Indeed, how to take measurements at a distance without physical interaction? How to get reliable measurements without the intervention of a professional? How to make custom-made glasses remotely?
The solution to these challenges lies in 3D scanning from smartphones. This innovative technology allows to take accurate measurements remotely for custom glasses manufacturing and right glasses frame recommendation.
Face 3D scan for custom-made glasses design
It is necessary to have a large number of measurements in order to take into account the entire morphology of the face (including ears). This is where 3D scanning of the face comes into play. Indeed, 3D scanning offers the possibility to obtain an accurate 3D model enabling a thorough analysis of each client.
In order to adapt to the specificity of each individual, the 3D scan allows one to examine accurately the different parts of the face: the oval of the head, the eyes, the nose or the ears. Hence, morphological particularities such as a smaller ear or eye can be properly taken into account This is essential for manufacturing a unique product, perfectly adapted to the customer's morphology.
Thus, 3D face scanning is a key tool in providing customers with eyeglasses and sunglasses that are perfectly adapted to their morphology, style and needs. And benefiting from this technology does not require the investment in an expensive scanner. Indeed, let's discover in the following paragraph how it is now possible to scan from a smartphone thanks to MyFit Solutions.
3D scanning from a smartphone: how and why?
How to scan from a smartphone ? MyFit Solutions 3D scanning guide
Performing a 3D face scan with a smartphone is now a simple and easy process in just three key steps:
Why use a smartphone as a 3D scanner? The advantages of MyFit Solutions technology
First of all, using a smartphone as a 3D scanner has the major advantage of accessibility. With smartphones being widely available, the ability to use a 3D scanner on a mobile device puts this technology within reach of everyone, including opticians, eyewear manufacturers and their customers.

Indeed, MyFit Solutions offers both scanning experiences from the rear cameras of any Android phone or iPhone, and an instant 3D scanning solution through the Apple Truedepth sensor (Face ID).
Besides, MyFit Solutions 3D scanning smartphone app is designed to be simple, fast and intuitive. This eliminates the need for specific training to obtain an accurate 3D model of faces.
Moreover, our smartphone-based solution offers the possibility to open up the fields of possibility for remote customization of optical frames or sunglasses.
A morphological personalization of the product accessible everywhere and at any time.
In short, this technology is innovative, accessible to all, easy to use, fast and accurate. Let's discover now how our solution revolutionizes the 3D scan of the face for creation of custom-made glasses.
3D face scan by MyFit Solutions for manufacture of custom-made glasses
MyFit Solutions offers you an innovative 3D scanning solution accessible from your smartphone. By using our technology, you will enjoy many advantages for the manufacture of custom glasses:
Enhanced customer experience: Provide your customers with a modern and innovative shopping experience, both in-store and online.
Reduced returns: Our accurate 3D scans ensure a better fit of custom eyewear, reducing your product returns rate.
Ease of use: Our guided application allows in-store professionals and their customers to easily obtain a 3D face scan, which is essential to the creation of custom eyewear.
Branding: MyFit Solutions acts as a white label, we create your dedicated application or we provide you with our technology (SDK) for integration into your existing mobile applications.
Integration to your environments : . Scans are linked to our web platform, facilitating access, tracking, downloading and automated exchanges of scanned 3D models with your' third-party softwares.

Do you want to adopt 3D face scanning technology for custom eyewear and offer your customers an unforgettable experience? Contact us to learn more about our solution.
Would you like to find out more about our 3D scanning solutions and applications?