Have you ever thought of allowing your customer to visualize his body in 3D with your jewelry? Imagine that your buyers can try on your jewels virtually from their smartphone. It is now possible!
In this article, we explain how with a simple mobile application you can take the user experience to a whole new level. See how you can adopt a solution that combines mobile app, Augmented Reality (AR) and Artificial Intelligence (AI).
Luxury: when innovation combines tradition and technology
Technology at the service of the artisanal image of luxury
If for a long time, the idea of luxury symbolizing artisanal know-how was at the antipodes of technology, the trend has completely changed. Today, new technologies have become an essential asset in customer relationship management. Indeed, prestige brands are increasingly seeking to interact directly with their customers by offering unique digital experiences such as virtual fittings.
Customers of the most prestigious brands are looking for a new experience, linked to the traditional accompaniment of a physical store. In-store or online, the challenge is to offer visitors an unforgettable service:
test,
use a scanner of the whole body or part of it (bust, hand, feet…),
visualize his body in 3D,
be advised,
personalize,
customize, adjust to measure,
to be considered (we speak of a "one to one" relationship).
All the different processes put in place create a real link between the brand and the customer, which is essential in the luxury sector.
Important technological trends
In the luxury watch and jewelry sector, three main technological trends are observed:
1/ The digitalization of offers in order to reduce points of sale in favor of virtual stores.
In Europe, compared to Asia or the United States, there is a real desire to reduce physical stores in favor of e-commerce. The luxury e-shopping is equipped with new features in order to :
present products in 3D,
use Augmented Reality (AR) to allow people to virtually try on jewelry from their home,
provide simple delivery solutions (click & collect).
2/ The involvement of Artificial Intelligence (AI) and Augmented Reality (AR) to offer a unique user experience.
Artificial Intelligence allows to create new relationships between brands and their consumers.
AI is the use of algorithms to process and cross-reference computer data. For example, processing photos and images to create 3D models.
By coupling Artificial Intelligence (AI) with Augmented Reality (AR), retailers are offering innovative shopping solutions. Computer or mobile vision provides customers with the ability to see themselves wearing your jewelry, accessories, clothes… All of which helps them to make a purchase from the comfort of their living room!
3/ The use of data for ultra-personalization.
The use of customer and behavioral data provides key resources to offer ultra-personalization to the customer. This applies to the service, the presentation of the articles and the products offered.
Technological challenges in the luxury market
Being at the cutting edge of technology for luxury companies is a guarantee to adapt to the current market. Thus, digitalization is strongly invited in companies both in the frontline (customer facing) and in the back office (infrastructure, production, administration).
Technology is a key tool to :
Strengthen the sales force: Apps, chatbots or social networks multiply the points of contact with consumers.
Develop sales: Customer knowledge is self-enriching (AI, big data, learning machine…) Thanks to this better understanding of users' real needs, sales are more qualitative. For example, the use of a mobile application allows to model and scan a hand perfectly in order to recommend the size of a ring with accuracy. Technology avoids mistakes!
Reduce return rates: when the customer receives the right product in the right size the first time, returns are rare. Therefore, having equipment that performs accurate measurements of morphologies ensures the right size choice.
Improve delivery with software for a high level post-purchase experience (fast delivery and better quality).
Better manage inventory: digital tools process information from all links in the supply chain (automated processes).
Reinforce brand image and build a storytelling around the evolution of the brand and its customer experience.
Rely on an omnichannel strategy: it is the fact of combining in an interconnected way several channels of a brand at the same time (App., website, store). Thus, a customer receives the same information that allows him to start his shopping online, to continue on his phone while being present at the point of sale.
The use of mobile applications to see your body in 3D
66.9%
Is connected from a cell phone!
Today, it is not enough to be online, you have to be mobile. Indeed, according to the digital 2022 report.
In July 2022, 66.9% of the total population is connected from a cell phone!
A mobile application offers many advantages and is a very popular tool for :
Knowing your customer better: avoiding providing them with information or products that do not interest them thanks to data collection and processing.
Offer a luxury shopping experience that allows customers to visualize their body in 3D from a simple scan from their smartphone.
Rely on field teams who easily and quickly master digital tools. Sales people are very used to Apps and everything that revolves around the mobile internet.
Technological tools are proving to be essential resources in the luxury world for an overall premium experience. And for this, scanning and the use of 3D are a must. Discover in the following paragraph how scanners can seduce your customers without distorting your practices
An instant scanner as a sales aid?
The real difficulty is to know the morphology and the dimensions of the anatomy of its customers. And to do this, some brands build models from photos, videos or customer information, without having the exact data of the person! Others even create custom-made busts to reproduce the morphology and the image of the individual, to then make personalized jewelry.
The 3D scanner is therefore a revolution in the luxury market!
Firstly, the use of a 3D scan ensures a digital measurement that is reliable, repeatable and reproducible. This remote measurement, without physical contact with the person, puts an end to the use of a tape measure while allowing to find the right size for any jewelry.
And secondly, the 3D scanner brings the offer to a high level of innovation. Imagine offering your customers a scan of their bust or any body part in just a few minutes without touching them. Once the exact morphology is collected, you suggest products that fit them.
This user experience of body scan, face scan or any other part of the body (bust, hand, wrist) can be offered in stores, online and abroad in the case of international trade.
1/ In store
In physical stores, the use of a 3D scanner gives you the possibility to offer an innovative experience thanks to the concept of "digital twin". Indeed, thanks to the realization of a scan, it is possible to visualize his body in 3D on a digital support. Thus, the digital double of your customer is adorned with jewels and accessories in order to have a real vision of what it looks like on himself (and not on a mannequin which has a completely different morphology).
Moreover, this technology allows us to take the right measurements of the customer in store, without touching him. Whether it is a 3D reconstruction of the person's bust (to make jewelry, to have realistic renderings) or for measurements.
The operation is simple and takes place in just a few steps: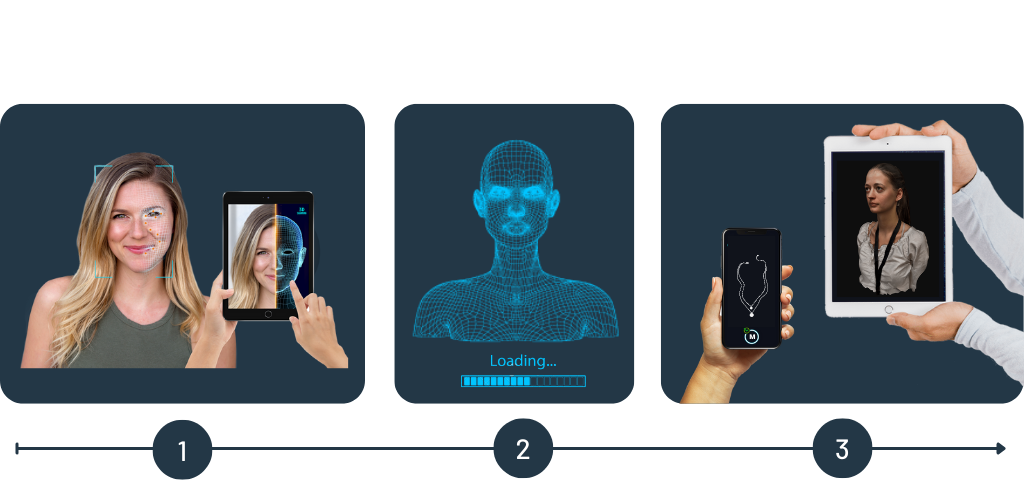 The seller scans the person.
Once the scan is finished, the tool displays a 3D representation of the bust to scale,
The jewelry is tried on directly on the digital double. Beyond the color, the technology gives a dimension of size/proportion. The salesperson can thus recommend the best size, the best product to his customer adapted to his silhouette in record time!
2/ Online
One of the challenges of the luxury world is to have an omnichannel customer experience. While this sector is traditionally used to proximity, e-commerce has a real value on the market.
The online experience is the same as in-store by giving the customer the possibility to start alone at home (or with a partner who performs the scan) by taking measurements via the mobile application.
The effects are immediate:
On the one hand, the customer captures remotely in advance so that the salesman or saleswoman can prepare as much as possible before coming. This ensures conversion for sure. Let's take the sale of shoes as an example. The customer scans his own foot, which tells you his shoe size after analysis. Before his visit to the store, you just have to make sure you have the right size of shoes in the store (and not in the warehouse).
On the other hand, the scanning experience can be done remotely as a virtual fitting with an avatar.
3/ Abroad
Today, we talk about omni-channelity through a semi-online sales process. Indeed, morphological information can be captured and validated upstream (via an app), before the physical visit of the interested person in the store. This is a very important point when the main customers of luxury brands are mainly located abroad.
Prestige brands are international and they attract people :
Who travel to buy Luxury products because they cannot find them in their countries.
who prefer to avoid a purchase in their country of origin to optimize taxes. When the sums involved become substantial, buying in France allows them to optimize their purchase.
Allowing to visualize his body in 3D, to collect sizes and morphology of each person, to pre-order products, to prepare a visit in store, how does it work? In the following paragraph, we detail how an easy-to-use application can change the shopping experience of your buyers.
How to visualize his body in 3D? A technology at your fingertips!
A 3D scanner that fits in your pocket
3D acquisition equipment is often imposing, expensive and requires team training to use it. However, in the luxury market, brands need to equip their stores quickly without wasting time on training or disrupting their practices or business model. And that's understandable!
In fact, the more easy, intuitive, and even revolutionary the experience is, the more rewarding it is for the brand. That's why we have developed THE solution that supports you in your digital transformation while respecting your prestige positioning.
MyFit Solutions is 3D acquisition from Smartphones. It's like having a body scanner or a face scanner in your pocket.
It's simple: from a mobile application, anyone can scan without training. MyFit 3D scan is far from all the complex processes. Choosing MyFit Solutions is opting for a SaaS solution:
simple and quick to set up,
accessible with a single common tool: the smartphone,
that brings value to the teams.
How does it work ? How to create a 3d model in a few seconds?
With the MyFit Solutions technology, you digitize a 3D scan in a few seconds in an intuitive way. There is no need for training, our system has been designed to be used by anyone and anywhere. Indeed, everything is managed from a mobile application downloadable on IOS and Android.
From your smartphone, follow the guide in Augmented Reality (AR) in order to capture all the images necessary for the 3D reconstruction. Here is an example of a 3D face scan. You can see how easy it is to use and the high quality results obtained from a smartphone.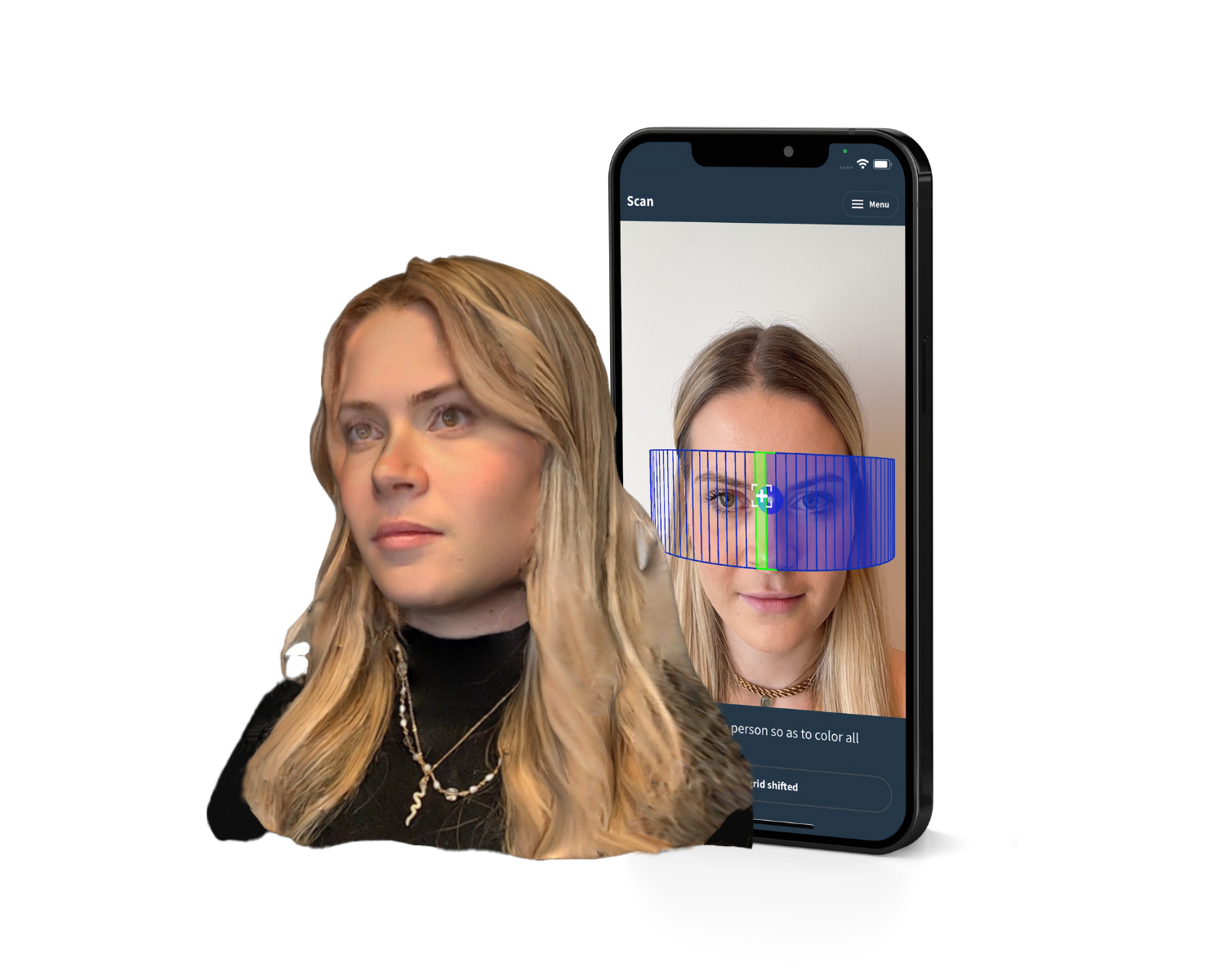 With MyFit Solutions, allow each customer to see their body shape in 3D and enjoy a luxurious shopping experience.
Want to know more about our technology and software? You want a confidential solution? MyFit Solutions supports luxury professionals as a white label.
Would you like to find out more about our 3D scanning solutions and applications?